Grab is attempting to do the virtually impossible, compete with Uber and Lyft in an extremely oversaturated and cut-throat ride sharing market. Will Grab stock be the next big IPO?
The growth in the ride sharing market has been nothing short of phenomenal, unprecedented, grab any other hyperbolic adjective for maximum enthusiasm!
Consumers are changing their entire spending patterns to align with the new business models, and these new players are shaving revenue off traditional giants.
For this article, let's take a deep-dive into a new, up-and-coming powerhouse, Grab.
Grab History
Grab has a ton of background information on their website for consumers and potential investors.
"Grab was founded on the belief that a technology company in Southeast Asia could both run profitably and create sustainable social impact.
We hold ourselves responsible to the environment and socio-economic development of this region, not just for today, but also for the future.
At Grab, every Grabber is guided by The Grab Way, which spells out our mission, how we believe we can achieve it, and our operating principles, which we call the 4Hs (Heart, Hunger, Honor, and Humility).
These principles guide and help us make decisions as we work to create economic empowerment for the people of Southeast Asia.
Every day, we serve millions of consumers, merchants, and drivers on Grab.
Consumers look for quality services to ease their everyday lives, while merchants and drivers get access to greater earning opportunities because of our large consumer base.
In fact, we are proud that many of our driver-partners got their very first earning opportunities with Grab."
While it may seem a little overdone in today's business climate with the focus on sustainability, Grab has a true, core mission they bring to the marketplace every day.
Younger generations have a much stronger likelihood of engaging with a company that stands alongside them on social and core values.
This strong mission statement may help Grab snag much-needed market share in a competitive landscape.
Growth of Ride Share
McKinsey has a fascinating article on the growth in ride sharing (or "shared mobility" services).
"The potential expansion of e-hailing, car sharing, urban air mobility, and other diverse mobility solutions is changing how we travel.
Riders now have many cost-effective and convenient alternatives to vehicle ownership, and their options will continue to grow over the next decade.
The shared mobility market now exceeds $60 billion in value across the three largest markets: China, Europe, and the United States.
The future will bring even greater gains as self-driving taxis and shuttles become more common and urban air mobility moves past the pilot stage.
With this momentum, we expect the annual growth rate for shared-mobility solutions to exceed 20 percent through 2030.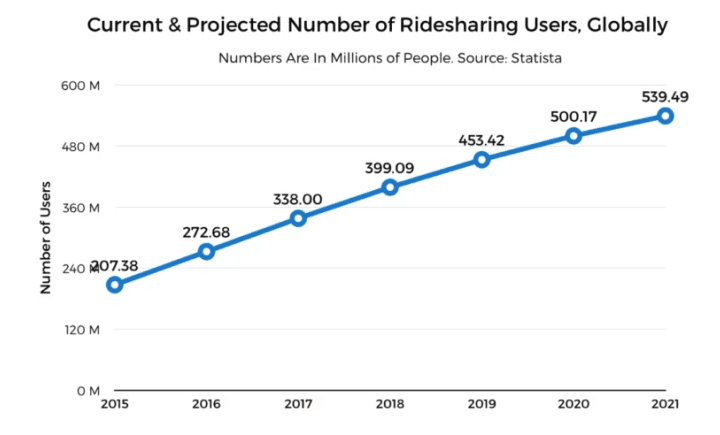 The transformative path could accelerate through cities' supportive initiatives to introduce autonomous vehicles.
This would enable companies to further monetize and provide for new use cases, such as wheelchair-bound passengers and parents traveling with children, through purpose-built vehicles.
We believe customer preference, regulation, and technology will determine which path comes to fruition."
While there is never a 100% guarantee in life, I find it practically impossible to envision any scenario where ride sharing services go down across time.
2020 was a horrendous year for shared mobility services (Uber, Lyft, Airbnb), but all these companies are bouncing back with a vengeance.
Regulatory Crackdown
Grab Stock will face a unique threat over the next few years: regulatory crackdown. I focused on this issue in another article, "Why Uber Stock is Worthless: Road to Zero".
In recent years, London removed Uber's license to operate within city limits, posing systemic risk to their business model. This halted more than 40,000 of London's Uber drivers instantly!
Simultaneously, governing agencies are beginning to discuss the potential public safety and security implications of these new shared mobility services.
Wealthy Diligence has recently partnered with Audible to provide our readers a 30-day free trial with this exclusive link (no strings attached). Reading has fundamentally changed my life, and I want my followers to have a similar experience.
Who should be held legally responsible: the independent service providers or the operating company? This difficult to answer question lead to the clash of AB-5 in California.
You can read more about AB-5 here. Essentially, this law calls into question the classification of workers between independent contractors and employees.
Most shared mobility services (Grab included) have faced criticism from unions, lawmakers and traditional cab drivers over working conditions.
The distinction between independent contractor and employee has tremendous implications on profitability, business model feasibility, and future growth prospects.
Saturated Market?
There is an awesome article on Wired called, "How the hell did Uber just lose $5 billion in three months?" What a great question, right!
"Now, the company has posted its biggest-ever quarterly loss, a staggering $5.24bn in the three months to the end of June.
This news, coupled with the company's slowest-ever revenue growth in the same quarter, have caused its shares to slide 10 percent.
"To say that earnings were disappointing would be an understatement," says Alyssa Altman, transportation lead at digital consultancy Publicis Sapient.
"Uber has turned into the magical money burning machine."
So what has happened? How did Uber lose more than $5bn in such a short space of time?
Across the world, Uber is facing massive competition from a saturated market in both its ride-sharing and food delivery services.
Lyft in the US, which reported better, but still poor, results of a $644 million loss during the same quarter, Bolt in the UK, Ola Cabs in India and Yandex Taxi in Russia are among those challenging Uber on the ride-sharing front.
For the food delivery side of its business it's facing Deliveroo and JustEat in the UK and in the US it's seeing fierce competition from GrubHub, Postmates and DoorDash."
Is there really just too much competition in the ride sharing niche for Grab to have any sort of success? Luckily, they are the first major player to open up the Asian market.
They have good name recognition, and of course, the infamous first mover advantage. Only time will tell if there really is too much competition in this market.
Grab Stock IPO
The Grab Stock IPO date is not known, and the firm has not decided whether they will take their company public in the near future.
Grab Stock would definitely be an eye-catching headline and news story, and I doubt they are having much trouble funding their day-to-day operations. Investors are flocking to get a piece of seed funding rounds.
My personal thoughts (off the record) is that Grab Stock will go public via a SPAC Acquisition. That way, early investors are provided a liquidity opportunity, and there's less red tape.
Taking a company public via a SPAC, rather than an IPO, could save Grab millions in underwriting commissions from an investment bank and lower levels of security registration hassle.
This option is the perfect mix between staying private (keep short-sellers away) and going public with earnings calls, audits, and investor relations.
Grab Stock Price
Now, you might be asking, "What would Grab's stock price be if they were to go public via an IPO?". That's a wonderful question, and we should explore the answer!
BBC noted in a recent article that Grab had obtained a $40 billion valuation. that's an eye-popping amount.
"Grab is reportedly in talks about a stock market listing that could value the company at $40billion.
Spacs, also called "blank cheque companies", have seen a surge of popularity in recent years, and are seen as a faster route to taking a company public with less scrutiny.
The parties could reportedly announce a deal in the next few weeks, with the goal of listing in the US.
Grab is expected to raise between $3bn and $4bn from private investors, according to the report."
Now, the Grab stock price would all hinge on capital structure, investor enthusiasm, and an IPO premium. However, a stock price between $100-125 would appear reasonable.
Grab Stock Alternatives
Got it, you're not interested in another ride-sharing app because you think the market's saturated and the verdict is already out.
What are some other possible upcoming tech IPOs?
I would really recommend investors keep their eyes open for any news on Lucid Motors. There's been a lot of speculation in recent months that they are nearing a SPAC deal.
Can You Buy Stock in Grab?
At the moment, no, you cannot buy stock in Grab, but you will be able to purchase shares in an upcoming IPO. Grabs's valuation points towards a $100 share price!
I think Grab has the potential to be one of the best companies of the coming decade. It's an intriguing story, and the company has a mission and vision they are willing to work hard to achieve.
New Article Notifications
Disclaimer
Investing outside a bank or a credit union is not FDIC insured. All investments are subject to additional risk, which may cause you to lose your money. All information provided here is for informational and entertainment purposes only.
It is not an offer to buy or sell any of the securities or other products talked about within the scope of this article. Wealthy Diligence makes no claim or guarantee for specific investment rates of return.
Please discuss all investments with a CPA, CFA, CFP, or other professional, and always perform your own due diligence before investing.
I may receive compensation for affiliate links clicked or products purchased.