Boston Dynamics is on the cutting edge of innovation in smart manufacturing, industrial robotics, and cost savings. But, can you buy stock in Boston Dynamics.
Industrial giants have begun to view robots in the workplace as a productivity aide to human labor, not as a complete replacement.
This is why when Boston Dynamics released their prototype of "Spot", a robot with legs, manufacturers went crazy. This new creation can create a safer, more productive work environment.
Let's take a deeper-dive into Boston Dynamics.
Boston Dynamics History
Boston Dynamics' website contains a store of valuable information surrounding their upcoming products and core capabilities.
"Boston Dynamics focuses on creating robots with advanced mobility, dexterity and intelligence. We have long held that mobility sufficient to access both the natural and the built world required legs.
We began the pursuit of this dream over 30 years ago, first in academia and then as part of Boston Dynamics because it was an exciting technical challenge and because to build a highly mobile robot required it.
We wanted to build a robot that could go where people go.
The commonly referred to "dull, dirty and dangerous" tasks don't occur solely on a neatly organized factory floor, they pop up in the natural world and in existing infrastructure.
These are places where being effective requires deftly maneuvering through rocky trails, staircases, catwalks, doors or narrow cluttered passages.
The environment can't be conformed to the machine, and therefore the machine must be capable in the environment as it comes."
As someone who has worked on a manufacturing floor, a robot with dexterity could create an immense competitive advantage and improve safety protocols.
Robots Replacing Traditional Labor
McKinsey, one of the best consulting firms in the world, has been following manufacturing industry trends toward robotics and automation as a supplement to traditional labor.
"Investment expectations are high with 88% of respondents anticipating an increase in investment, which is in line with IFR market projections.
Respondents from the automotive industry indicate the highest expected investment in robotics and automation.
The investment increase across industries is mainly driven by the goal to decrease production cost. Investment is also motivated by the need for increased flexibility in production and improved capabilities of robots.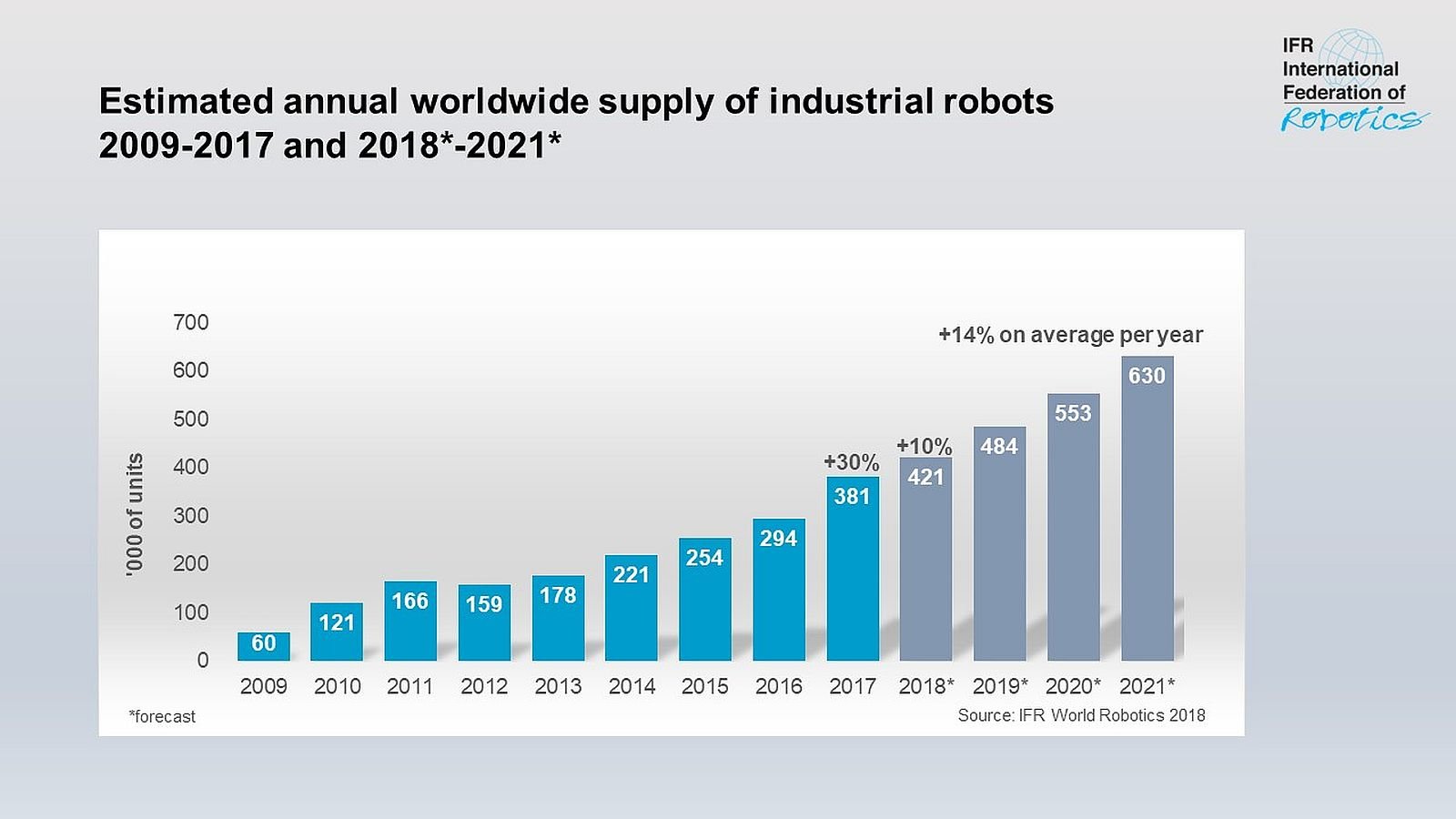 Our findings suggest that automotive manufacturers are seeking higher flexibility in the production processes as well as improved safety for employees from technology adoption.
The cost of robotics technology is, however, the key driver for automotive players, even more so than for the other sectors."
Note, the key driver behind implementation is cost of this new robotic technology. Industrial powers need to see a prominent return on this risky endeavor.
Smart Industrial
"Smart Industrial" is the talk of the town, and iScoop does a brilliant job explaining to everyday readers what this actually means.
"Smart manufacturing has been defined as the fully-integrated, collaborative manufacturing systems that respond in real time to meet changing demands and conditions in the smart factory, in the supply network, and in customer needs.
Smart industry is a synonym for Industry 4.0 or industrial transformation in the fourth industrial revolution within which smart manufacturing de facto fits.
Industry, the manufacturing business, manufacturing companies and even manufacturing processes are in full transformation.
This is mainly due to increasing automation, digital transformation, the bridging of digital and physical environments, evolving industrial and manufacturing technologies, the intensive usage of data/analytics, industry and manufacturing challenges, human, economic and societal evolutions and demands and the integration of information technology and operational technology."
Personally, I know John Deere and Caterpillar are investing heavily into a "Smart Industrial" business model. This goes from self-driving equipment, to data collection, and robotics in manufacturing.
The goal is to collect as much valuable data as possible, enhance profitability/margins, and serve customers in the best way possible (superior products and cost savings).
Cost Savings For Shareholders
Step back, close your eyes for a second, and imagine you're a shareholder for John Deere, Caterpillar, or General Motors. What's the best way to increase the return on your investment? Labor cost savings.
Labor expenses are ALWAYS going to be one of your largest income statement line items. Most manufacturing employees are members of a union with high pay, great health benefits, and a pension.
Does a robot need pay increases, healthcare, or retirement contributions? Of course not. Robots don't need time off or sick days. Robots can operate 24/7 and supplement traditional labor.
Wealthy Diligence has recently partnered with Audible to provide our readers a 30-day free trial with this exclusive link (no strings attached). Reading has fundamentally changed my life, and I want my followers to have a similar experience.
Additionally, nominal interest rates are currently at all-time historic lows. This means long-term investments are more likely to be profitable in an investment analysis decision using cash flows.
Pair low interest rates with depreciation expense, and it might be an absolute no brainer for companies to buy Boston Dynamics' "Spot" product.
Boston Dynamics Stock IPO
The Boston Dynamics IPO date is currently unknown. Boston Dynamics is heavily investing in research and development, in order to continually improve their product's technological feasibility and uses.
Currently, Boston Dynamics has been able to secure internal financing from Softbank, one of the world's largest venture capital providers.
Softbank has provided no immediate indication they plan to take Boston Dynamics public, but they do have a historical track record of attempting to take their investments public.
Additionally, "Spot" will require a lot more patenting and legal issues that will undoubtedly arise as the firm continues to grow.
As long as Boston Dynamics can keeping funding working capital, R&D, and payroll costs, there is no immediate need for further external financing.
Personally, I do however expect Boston Dynamics' stock to be publicly available within the next 5 years based on Softbank's history.
Boston Dynamics Stock Price
Robotics Tomorrow has been all over the latest funding and valuation for Boston Dynamics.
"Accounts filed with Companies House two weeks ago show that Softbank Group Capital, a UK-registered company that helps Softbank manage its overseas investments, made two loans totaling $37m to Boston Dynamics in June and September 2018.
The loans, which both carried an interest rate of 2.4%, were converted into two common shares of Boston Dynamics on 7 January 2019, the records show.
Neither Softbank nor Boston Dynamics responded to Yahoo Finance UK's requests for comment in time for publication.
Softbank bought Boston Dynamics for a reported $100m in 2017 from Alphabet (GOOG), Google's parent company."
Naturally, I have to ask myself, "What would Boston Dynamics' stock be worth if it was publicly traded on an exchange?"
First issue at hand. Did Softbank overpay for Boston Dynamics. Softbank last year had the WeWork disaster; you know, when they valued WeWork at $48 billion when it was only worth $7 billion!
Nevertheless, let's assume Softbank performed all the correct due diligence for the sake of argument. A reasonable IPO launch might hover around $35 per share.
This would be in the ballpark of Facebook, Uber, and Lyft, and it might be enticing enough to attract retail capital flows.
Boston Dynamics Stock Alternatives
Maybe industrial robotics isn't your investing niche, but you still want to take advantage of the trend towards automation and artificial intelligence.
What are some of your other growth opportunities?
Can You Buy Stock in Boston Dynamics?
Presently no, you cannot buy stock in Boston Dynamics. An IPO within the next 5 years is highly probable, and I expect an IPO launch around $35 per share.
Boston Dynamics has the ability to completely revolutionize manufacturing and pave the way for the 4th Industrial Revolution. I would keep my eye out for updates if you are interested in technology.
New Article Notifications
Disclaimer
Investing outside a bank or a credit union is not FDIC insured. All investments are subject to additional risk, which may cause you to lose your money. All information provided here is for informational and entertainment purposes only.
It is not an offer to buy or sell any of the securities or other products talked about within the scope of this article. Wealthy Diligence makes no claim or guarantee for specific investment rates of return.
Please discuss all investments with a CPA, CFA, CFP, or other professional, and always perform your own due diligence before investing.
I may receive compensation for affiliate links clicked or products purchased.